Location and Grade Configuration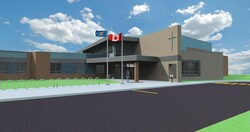 Sister Alphonse Academy is the newest addition to the Greater St. Albert Catholic School District family. It has been designed as a K-9 school but opened in September of 2018 with a K-7 configuration, in 2019/20 it has a K-8 configuration and in 2020/21 we are planning a grade K - 9 configuration. We welcome all registration inquiries K-9.
SAA is located in the beautiful city of St. Albert, AB and serves resident students in the vibrant new communities of Jensen Lakes and Erin Ridge North(residences north of Erin Ridge Drive). Registration inquiries are welcome from students outside of our designated boundaries. We currently have welcomed and enrolled students from outside of our attendance area where space and resources permitted and we have been given permission to consider requests for the 2020/21 school year. It is predicted that the school will eventually serve approximately 350 - 400 students. For more information please do not hesitate to contact our school at 780-809-2996 between the hours of 8:30 am to 3:30 pm.