SAA Unveils Athletic Logo!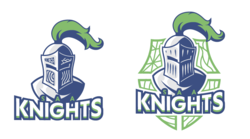 Knights Athletic Logo
We are proud to unveil our primary(to the right) and secondary(to the left) Knights Athletic Logos for Sister Alphonse Academy. A team of students collaborated with Holdsworth Design over the past few months. Our next task is to have the logo applied to the gymnasium floor and in prominent places within the school. We will also arrange for another clothing order that has our athletic logo and we will purchase team jerseys for our basketball and volleyball teams.
SCHOOL OPEN HOUSE
Mark your calendars! Our School Open House will occur on Thursday, February 28 from 6:30 pm to 8:00 pm. Our students and staff will be pleased to answer your questions about our Learning Framework, Recreation Academy, Dynamic Options 4-6, Pre-Ap Programming, kindergarten, curricular and co-curricular choices for students. Hear more about the magic of a K-9 school and it's opportunities for leadership and mentorship. Find out how your child can become a KNIGHT!
Welcome to Sister Alphonse Academy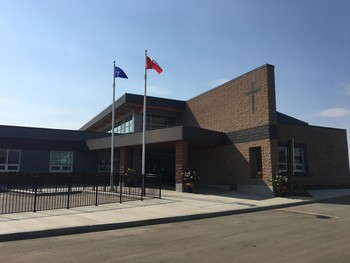 We will begin to accept registrations for the 2019/20 school year beginning on January 21, 2019 for kindergarten and February 28, 2019 for students in grades one to nine.
Our K-9 school provides a faith based, 21st century education in a brand new facility that opened on September 4, 2018. Check out our program choices for kindergarten and K-6 child care options for parents. We are also pleased to offer students in grades 4-9 Recreation Academy Programming and a diverse menu of option choices. Our facility includes a CTF Woods Lab, Design Lab, Foods and Fashion Lab, Music Room and Learning Commons. The school has been designed and furnished with flexible learning spaces and configurations for all types of learners. 
2019/20 registration packages for students in kindergarten can be picked up at Sister Alphonse Academy, Monday to Friday, between the hours of 8:00 am and 3:20 pm. or you may download the 2019/20 Kindergarten registration Package by clicking on the Kindergarten Registration Form Link.
2019-20 Kindergarten Registration is Now Open!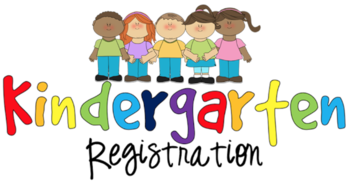 We are pleased to welcome registration for students who will be enrolled in kindergarten for the 2019/20 school year. We are pleased to offer half day, progressive and full day options for parents. Parents may drop in to the school and pick up registration forms at the school office between 8:15 am and 3:20 pm. or you may download the 2019/20 Kindergarten Registration Package by clicking on the Kindergarten Registration Form Link.  Call our office if you would like to arrange for a tour of our beautiful facility.
Our KINDERGARTEN OPEN HOUSE will occur on Thursday, February 28 at 6:30 pm in conjunction with our SAA School Open House. Find out about kindergarten and all the program choices for your child in our K-9 school facility.
Advent Project - Welcome Baskets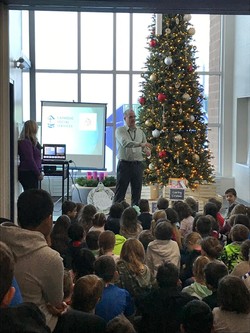 Since our school opened SAA students have been constantly reflecting upon the question, "How can we Welcome Others?" Through our Global Read Aloud many students read stories about refugees. To culminate this project we are planning on creating Welcome Baskets for refugee or immigrant families. You can help by sending items that will go into our Caring Crates under the tree. These items will be used for our Welcome Baskets. Students are asked to bring in items until December 18. Mr. Rich Horning of Catholic Social Services was here to speak to our students about the work that they do to support refugee and immigrant families.
Sister Alphonse Academy is Officially Open!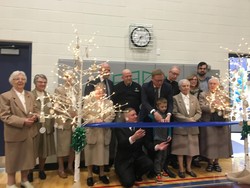 Dignitaries, students, staff, parents and friends of Sister Alphonse Academy gathered on the afternoon of Tuesday, Oct. 23 to officially celebrate the opening of Sister Alphonse Academy. It was a wonderful celebration and we thank everyone for joining us! We were blessed to have Archbishop Richard Smith join us and bless our school. In addition, we were pleased to welcome the Honourable David Eggen, Minister of Education, Trevor Horne, MLA Spruce Grove - St. Albert, Jacquie Hansen, Acting Deputy Mayor of the City of St. Albert, Serena Shaw, Alberta Catholic Schools Trustee Association. From the Greater St. Albert Catholic School Board -Chairperson Joe Becigneul, Vice Chairperson Rene Tremblay, Trustee Joan Crockett, Trustee Cathy Proulx, Trustee Noreen Radford, Trustee Serena Shaw and Trustee Greg Schell. In addition, Senior Administration from Greater St. Albert Catholic Schools - Superintendent David Keohane, Asst. Superintendents Dr. Rhonda Nixon and Clint Moroziuk and Secretary Treasurer Deb Schlag. We were also blessed to have six members of the Grey Nuns attend as well!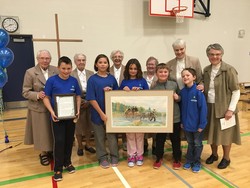 The Grey Nuns presented our students with special gifts to honour the Legacy of Sister Alphonse. We have a special place for them!
SAA School App
SAA School APP
The SAA App for iOS and android is now available. Just search for "My School Day" on the app store. When you run it, it will guide you through selecting Sister Alphonse Academy- this only needs to be done once. The app will be used to send out news and notifications from our school. 
Report an Absence - Safe Arrival System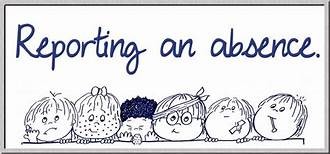 Absence Reporting – SAFE ARRIVAL SYSTEM
Our District has upgraded the Safe Arrival absence reporting process to support families in having their children arrive safely to school. This absence reporting system will allow the school to verify student attendance, and quickly notify parents and guardians of absences that were unexpected or unplanned..
Report your child's absence in advance with 3 convenient methods:
On a mobile device, install the District App (search "Greater St. Albert Schools" in the Apple App or Google Play stores). Select SafeArrival - Attendance - Report an Absence. (Please note, to sign up for the new School Messenger SafeArrival it is best to use a computer)
On the SAA website select REPORT ABSENCES or SafeArrival website, go.schoolmessenger.ca. Sign Up to create your account, then select Attendance followed by Report an Absence.
Call the toll-free number 1-844-502-5100 to report an absence using the toll free system.
What happens if I do not report my child(s) absence?
If your student is marked absent and it is not explained in advance, the SafeArrival system will send notifications by automated phone call, text message, email, or mobile app push notification to get a reason for the absence. If our system is unable to reach the designated contacts, office staff will follow up. Calls and contacts will continue until you choose an option to explain the absence.
Begin using the system September 4, 2018 - Click on the Report Absences tab to the left to begin.
Division News